About The Leadership Team
Tim Syrianos
Broker of Record, Owner, MVA,CERC
Tim Syrianos is the Broker of Record/Owner of RE/MAX Ultimate Realty Inc. Entering real estate in 1989, young and ambitious, Tim strove to take in and learn as much as possible about his chosen industry. His drive and passion led to extensive knowledge in all aspects of real estate, including residential sales, commercial, industrial ventures and land assembly projects. Striving always to better himself and provide his clients with the Ultimate in service, Tim went on to work towards and earn his Broker's license and other designations, including ABR, MVA (Market Value Appraiser) and CERC (Registered Relocation Specialist).
Along the way, his efforts did not go unnoticed as Tim became the recipient of numerous achievement awards including "The RE/MAX Hall of Fame" designation as awarded by RE/MAX International. His knowledge and expertise have been sought after as an industry speaker and has been featured in numerous media interviews including newspaper and TV (CBC, CFTO, CTV, Omni and Global). With the support of his wife and three young children, he has focussed his sights on helping other REALTORS® achieve success, mentoring and coaching his entire sales and support staff and sharing the knowledge that has made him successful. Tim has also served as part the TREB Board of Directors since 2012 and also as President elect of TREB between 2017 to 2020.
Tim is determined to fulfill his dream of building a Brokerage that is second to none, and in delivering the ultimate service to clients, as he himself has done for so many years. Through Tim's leadership, RE/MAX Ultimate Realty Inc., Brokerage has built an enviable reputation in our vibrant city as the "go to" brokerage for clients and other REALTORS®, as well. Whether you are a buyer or seller looking for the ultimate in realty services or a REALTOR® looking for the ultimate workplace, make RE/MAX Ultimate Realty Inc. your destination of choice!
Rose Bertucci
Broker/Manager
Rosella (Rose) Bertucci is a well respected member of our Ultimate Managing Team. As a past Broker of Record/Owner and most recently as Manager, she brings experience, knowledge and entrepreneurial skills. She has mentored and coached many very successful REALTORS®. She brings with her fresh ideas and is constantly evolving. Rose has expertise in residential and commercial properties having had direct dealings with both. As a member of the Arbitration Committee she is current and up to date with TREB and RECO rules. Rose is a strong believer of working Ethically and with Integrity and has earned the respect of her peers and clients. She always lives up to her slogan "Expect the Best".
Rose loves what she does. Having made the choice to be a part of the RE/MAX Ultimate Team, she admits, that it is one of the best career decisions that she has made. She looks forward to being part of every agent's success story and to our growth as a leading brokerage. Should you have any questions or concerns you may contact her at the office 416-487-5131 or by e-mail at rose@remaxultimate.com.
Mark Ianni
Manager
Mark Ianni is a dedicated and devoted leader/mentor who provides unsurpassed support to our Ultimate team of agents. Mark brings 17 years of Real Estate success experience to RE/MAX Ultimate. Mark continuously develops and implements business plans to gauge agent progress and ensures consistent growth. Mark's personal commitment is to continue to learn himself and is always seeking personal coaching courses for the purpose of helping our team of Ultimate agents achieve the tools and insight to become the best you can be - and stay above the crowd. He's passionate about the image, reputation and success of our agents and always reminds our agents that "Obstacles are the things we see when we take our eyes off our goals"
Mark is excited to be an integral part of the leadership team that focuses on our number one clients....our agents! "RE/MAX Ultimate has the reputation, technology, the systems, and personal human touch and excited to work with the best brand in real estate. When he's not assisting our agents, Mark is a loving husband and father of 2 young girls.
Gerald McGiverin
Broker/Manager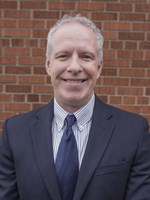 Gerald McGiverin has been involved in organized real estate since 1992. The transition to management, was a natural fit. As a past real estate coach for Canada's largest real estate coaching company, he gained great insight into the opportunities and concerns that make being a real estate agent both exciting as well as challenging.
Gerald is a big believer in continuos education and self improvement, keeping relevant in an ever shifting real estate industry, both for himself as well as the agents he serves at RE/MAX Ultimate.
Gerald has obtained his Broker, ABR and SRES designations. Gerald currently serves on the arbitration committee at TREB, keeping currently on the rules and regulations that govern the real estate industry.
Gerald knew in his first meeting with Tim, RE/MAX Ultimate was a very special organization that was going to allow all involved an opportunity to evolve into more than they could have imagined on their own. To this end Gerald looks forward to supporting and helping all who are part of the RE/MAX Ultimate team.